For he will command his angels concerning you to guard you in all your ways. They will lift you up in their hands, so that you will not strike your foot against a stone. Psalm 91:11 NIV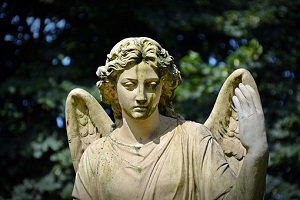 A dog nearly mauled my youngest son when he was four years old.
Jonah had been playing in the yard with the neighborhood kids. I poked my head out the door to check on him and noticed him standing on the other side of the yard, frozen in place. His eyes were locked on the scary neighborhood dog running right for him.
This dog was mean, and all the kids knew to stay away from it. That day, it escaped its fenced yard and headed right for my little boy. There was no time to reach him, and I was certain I would see him mauled. Then the strangest thing happened. Just as the dog prepared to pounce, it stopped dead in its tracks and ran off. Not one hair on Jonah's head was harmed. I know an angel intervened.
God commands His angels to guard His children. Often, they will intervene to keep us from harm. I have believed this for as long as I can remember and proclaimed it countless times as I envisioned the heavenly hosts on assignment.
I have prayed this belief over my husband and children and school busses and cars. I have prayed it at the start of the day as I sent my children on their way and while lying in bed at night as I waited for them to come home.
Praying such a prayer helps us have faith that God heard us and that He's on it. His angels are there as He commands them to be. No situation can occur in our lives that hasn't been approved by Him.
Don't let fear and worry overtake you. Trust that God has angels on duty surrounding your loved ones and intervening to keep them safe.
Hold on to God's promise to protect you with His angels, and then let go of fear.
(Photo courtesy of pixabay.)
(For more devotions, visit Christian Devotions.)
---
---