All Scripture is God-breathed and is useful for teaching, rebuking, correcting and training in righteousness. 2 Timothy 3:16 NIV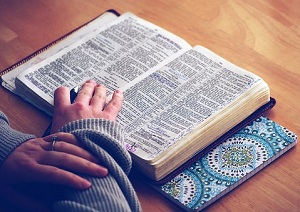 "Mom, is there texting in heaven?" my seven-year old daughter asked as she munched on a snack.
Snack time tends to present the wildest questions. I wondered if she asked because I had recently been very sick. Was she thinking about mommy being in heaven? Or was this another one of those thoughts that enters her wild imagination?
"No, there's no texting in heaven," I told her. "But what if there were?"
"Jesus could text to me here on earth," she exclaimed.
Wouldn't that be great? We could read His words, typed by His own fingers. We could even scroll back through past messages and read them over again. But we don't need texting for that. He has already given us a beautiful love letter, composed by His own breath.
God didn't wait for us to get to heaven to tell us how much He loves us. He breathed Scripture, and it is useful for many things—most importantly for conveying His love to us. Something we don't have to guess about, but can read about and experience.
God's breath spoke words of love so they would be written down forever. Because they were, we can hold His love letter in our hands even today. Sometimes, we keep love notes for generations. The Bible is God's love letter to us—kept safely for generations because He loves us that much.
When you need reassurance of God's love, open His love letter.
(Photo courtesy of pixabay.)
(For more devotions, visit Christian Devotions.)
---
---