Everyone who calls on the name of the Lord will be saved. Romans 10:13 NIV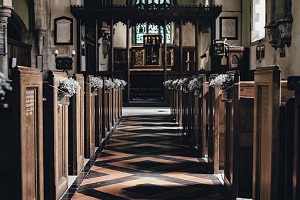 When I was small, a caring woman took me to Sunday school and worship services. As an older youth and teenager, I walked alone to a church in my neighborhood because my parents were not Christians, nor did they attend a church.
Then a revival began at the church I attended. The minister stopped at our house to invite Mom. She was hesitant at first but eventually promised the minister she would attend. At the age of fifteen, I was led by God's Spirit to accept Jesus Christ, but I was too shy to walk the aisle by myself to make the decision public.
The first night of the revival, Mom and I sat near the door in case we wanted to leave, but we stayed. On the second night, as the congregation sang "Softly and Tenderly," Mom said she was going forward.
Her heart had been touched to accept Jesus. I wanted to go also, but that long aisle seemed to stretch forever. I tried to talk Mom into waiting until the final verse, but she wouldn't wait. I walked the aisle with her, and we made our decisions known.
Mom's road as a Christian was not smooth. My father wouldn't attend services and denied God's existence. Still, as long as she was physically able, Mom faithfully attended.
I would have eventually had the courage to walk that long aisle, but with Mom at my side, I was encouraged to do so at an earlier age. Perhaps, through the years I attended church alone, God's Spirit spoke to Mom about salvation. I am thankful she heard and obeyed.
Many times through the witness of a family member's faith in God, an entire family will accept salvation.
If you struggle to live your faith before an unbelieving family, don't give up. God may use your witness to bring about their salvation.
(Photo courtesy of pixabay.)
(For more devotions, visit Christian Devotions.)
---
---