Come to Me, all you who are weary and burdened, and I will give you rest. Matthew 11:28 NIV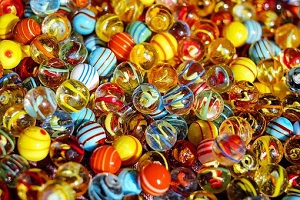 I lost my marbles when I met Jesus.
I'd been collecting marbles throughout my life, dragging them around in huge sacks. They were my greatest successes and disappointments—my biggest struggles, my most harrowing tales. I thought they had value, so I clung to them in hopes of cashing them in someday.
That day came. My health deteriorated. Friends betrayed me. I accrued a tremendous debt—a financial debt I owed to the bank and inner debt that left me feeling bankrupt. I tried making new friends, but they treated me worse than the old ones. I applied to a master's program in England. I couldn't afford the visa. I entered a writing competition, submitting the most inspiring story I'd ever written … my story of how I'd acquired my marbles. I didn't even get an honorable mention.
"But look how valuable this is," I said to people as I reached into one of my heavy sacks. "This marble represents the friends who've used me. And this." A different marble. "This represents all the traveling I've done. It means I'm knowledgeable and cultured."
I even showcased my most heart-wrenching tragedies—like the house fire I'd survived and the abusive relationships I'd been in. These marbles were near to my heart, but I began to realize they meant little to other people.
Disillusionment crushed me. I'd been lugging around these marbles, thinking … believing … the world wanted them, that people would give me something in return for them. Things like attention, affirmation, and acceptance. I would've settled for a little sympathy, but I got nothing.
Sin carved a path of destruction in my life, putting me in dangerous situations and leading to many hardships. I'd come to be proud of these experiences, calling myself "awesome" and "a survivor."
But when I met Jesus, He revealed the true nature of this mentality. He wanted my marbles. When I gave my life to Him—my experiences, good and bad, the brokenness from my past, the pride I'd attached to that brokenness—He gave me eternal life.
God promises to carry our burdens. If we burden ourselves with marbles, thinking they give us value, we forget the only One who can redeem us.
Lose your marbles by giving them to Jesus.
(Photo courtesy of pixabay.)
(For more devotions, visit Christian Devotions.)
---
---