Congenial conversation—what a pleasure! The right word at the right time—beautiful! Proverbs 15:23 MSG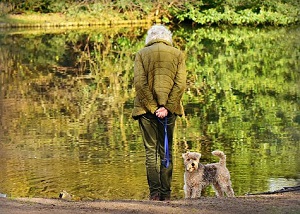 "Get that animal away from me!" a fellow trail walker screamed at me.
At six months old, our golden/rottweiler mix was clearly a puppy. I pulled on her leash to calm the irate stranger. "Okay."
Enraged, the woman turned around and moved away from me and my dog, Layla. "I have been attacked by dogs. You should keep that dog away."
My family and I had just purchased the bouncing ball of fur from a local Mennonite family. She was the picture of friendliness. We had found her wandering near an adorable toddler boy dressed in a full, button-down white shirt, shorts, and black hat. We fell in love with her.
On the trail, I moved as fast as I could in the opposite direction from the woman. I intended to leave and not return. At the end of the path, we encountered another dog owner, crouched down with her three cocker spaniels.
She looked up. "Can he play?"
I eased up on the leash and watched Layla scamper toward one of her dogs. We talked about the weather and the recreational area. I mentioned that I'd come to explore the trail for exercise and shared my previous encounter with the other lady.
"Oh, honey, everybody brings their dogs here. Don't mind her." She waved her hand as if it were nothing.
I listened to the woman's kind words that day and continued to enjoy the beautiful trail with our frisky pup. It has been three years since we first visited the park, and in that time, Layla has been trained while I've lost twenty-five pounds as a side benefit. It's my peaceful place to pray and listen to the Lord.
We never know what a kind word will do for someone. It may mean the difference between a bad experience or blessings that continue in their lives for years to come.
Don't miss an opportunity to speak a kind word to someone.
(Photo courtesy of pixabay.)
(For more devotions, visit Christian Devotions.)
---
---