But he was pierced for our transgressions, he was crushed for our iniquities; the punishment that brought us peace was on him, and by his wounds we are healed. Isaiah 53:5 NIV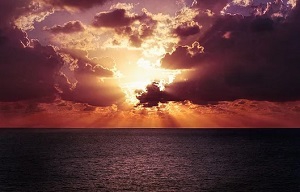 May the peace of Christ be with you, Love. That's how she ended every email.
I lost my dear friend, Betty, this year. She was ninety-eight years old, but her heart was young. I looked forward to weekly emails from Betty. She was spry and funny, and she read ChristianDevotions.us daily. She would tell me if she disagreed doctrinally with a devotion, for Betty was well-versed in her Scripture study. Her diversity in denominations . . . not so much. Still, that line she wrote at the end of each email was one of the most powerful sentences I've ever read.
I watched as my Christmas tree slowly turned. Its lights cast a soft glow over our dimly lit living room. As the tree turned, a tiny ornament came into view. It was a handmade Christ child, wrapped in swaddling clothes, with the words The Peace of Christ hand-penned on a ribbon. I took the ornament in my hand, gently turned it over, and saw, With love, Betty.
If we have anything of joy during this time of year, it is a promise fulfilled. God promised the world a Messiah, and though He was not the Messiah people thought He should be, the love He brought changed everything. He was the light, the Word, the hope—the peace humanity needed. Christ was "Emmanuel"—God with us. God was with us!
Isaiah described Christ in his prophecy, and although the description was harsh and somewhat sad, it foretold the joy and forgiveness the Messiah would bring. It was hard to imagine that this prophecy could come to light, but Isaiah finished his description of the Messiah by saying, "the punishment that brought us peace was on Him." The peace of Christ.
Christmas took on a new meaning for me. I've always appreciated the joy of Christmas, the gift of the Christ child, and the fulfillment of God's promise. Still, this year I saw something different as I studied an ornament—the reality of the harsh burden and punishment Christ took so that I could have peace.
As the love and joy of Christmas surround you this year, remember that the little baby in the manger grew up to be your peace. What love. What sacrifice. What hope. Take hold of all that lies in Christ, and may the peace of Christ be with you.
(Merry Christmas in heaven, Miss Betty.)
(Photo courtesy of pixabay.)
(For more devotions, visit Christian Devotions.)
---
---