And we know that in all things God works for the good of those who love him, who have been called according to his purpose. Romans 8:28 NIV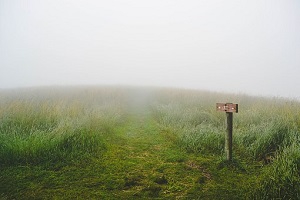 Decisions stink. Well, some do.
Deciding to have chocolate fudge brownie ice cream over an ice cream sandwich isn't so bad. It's more a win-win decision, but those decisions that tax us with restless nights, worry, and fear "ain't so much fun."
I've struggled with a decision for two years, truly not knowing if God was trying to move me or if I simply struggled with fear. Fear is my weakest link. I like having a plan in place, knowing that if plan A fails, I still have plan B, and if I get a little obsessed . . . plan C.
At times my first plan has failed, but I moved seamlessly into the next with little to no worry. Still there are those pesky decisions that eat away at us. The ones we struggle to give over to the great Decision Maker. We think we're so smart, hanging on, fretting, worrying over what God sometimes looks at as . . . minute. This doesn't lessen the extremity of the decision we must make. God gets that, but to Him it boils down to trust.
Paul knew through the Spirit there was no need for us to worry or fret. He worked tirelessly to help people understand this newfound Christian life through Christ Jesus. He confirmed that God loves His people and when those people allow Him, He works magnificent things both spiritually and physically. Paul wanted them to understand this amazing love of God. A God who could and would work to the good when we love and trust Him.
That's the hard part–trusting Him. We're such an impatient people, demanding results now when in truth the growth in trust is valuable. The success in waiting is so much better than an impulsive resolution. We know in all things God works for the good. He calls us according to His will and ultimate plan with the promise to care for us, not harm us. BUT, we must trust in His timing. In His plan. In His will.
I'm a worrier. Sometimes releasing my grip on the decision is worse than the decision itself, but God has yet to let me down. Oh, He's allowed me to walk through muck at times in order to strengthen and build me, but He has never let me down.
Loosen your grip on the decisions and let God work.
(Photo courtesy of pixabay.)
(For more devotions, visit Christian Devotions.)
---
---