Today in the town of David a Savior has been born to you; he is the Messiah, the Lord. Luke 2:11 NIV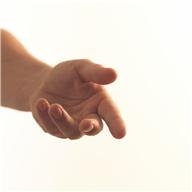 "I love you," were the final words I had to say.
Twice in the last six months, I have had to say goodbye to women very special to me. Both of these women were in their early nineties and had lived a long, productive life. This did not make saying goodbye any easier. In both cases I only had seconds to say my final good-bye.
There were numerous things I could have said by sharing precious memories together or telling each woman how much she meant to me. In searching for the proper words to say, none of these came. In short, three simple words came to me: "I love you." These words summed up everything in my heart. With these three words, I felt nothing was left unsaid. I was thankful for the opportunity to say good-bye, and the reassurance of one day seeing these ladies again.
God's love is fully shown through the gift of His son. The work God sent Him into the earthly realm to complete was difficult. His life was not easy, yet Jesus changed the world. God's gift to us came down to three words: "I love you." With those words to the world, God left nothing unsaid. He showed it through the birth and death of His Son. I sing a song which sums this up beautifully. In the chorus it says, "I love you, I love you, that's what Calvary said. I love you, I love you, written in red."
From the humility of the stable to the cruelty of the cross, this Child did nothing but love us. He didn't have to say the words. His actions proved it all.
Who in your life needs to know about the Christ child and His love? Don't leave anything unsaid.
(Photo courtesy of office.microsoft.com.)
(For more devotions, visit us at www.christiandevotions.us.)
---
---