Woe to the man who fights with his Creator. Does the pot argue with its maker? Does the clay dispute with him who forms it, saying, "Stop, you're doing it wrong!" or the pot exclaim, "How clumsy can you be!"? Isaiah 45:9 TLB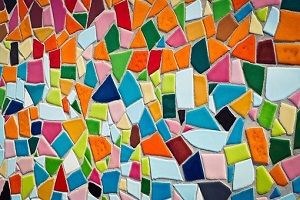 Oh, dear Jesus,
My life has been shattered into a million pieces. I am emotionally defeated. I feel as if I'm fading into nothingness, drifting into the abyss. Help me, Jesus. I can barely hold on. I need to know You still love me. Do You still care?
My child,
Nothing you can ever say or do will diminish My love for you. You are My special child. Never doubt My love. Imagine your life as a mosaic, uniquely fashioned by broken pieces of glass. These broken pieces were once beautiful. But when they were broken, they were deemed useless. Presumed to have no purpose, they were thrown into the trash and forgotten.
You may think this describes you. There have been many hard, painful circumstances—like the broken pieces or the shattered glass—that have made up your life. But I say to you, be at peace, My child. I, the Master Artist, quietly bend down to pick up the broken pieces. I place them perfectly into the art I am creating to make you an original piece of art.
Don't ask Me what I am making or tell Me how to create. Don't say that My mosaic is too jagged over here or that there should be more color over there. Only I have the master plan. Your job is to stay yielded in My hands and remember the great love I have for you. The kind of love that never fails. Today is the day we will begin again.
Allow God to love and restore you.
(Photo courtesy of pixabay.)
(For more devotions, visit Christian Devotions.)
---
---