I saw the Holy City, the new Jerusalem, coming down out of heaven from God, prepared as a bride beautifully dressed for her husband. Revelation 21:2 NIV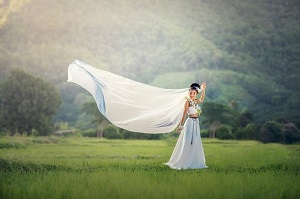 The plans for my wedding went flawlessly—well, except for one thing.
I once had a dream about myself in a wedding dress. A dress that was beautiful, strapless, and sparkly, and had a curvy sweetheart neckline. One year later, I got engaged and looked for that dress.
The first bridal shop had a similar one, but they could only sell me the sample dress that a million other brides-to-be had tried on. They also wouldn't budge on the $1,300 price tag. The dress was dirty, worn out, and frayed, but they still wanted me to pay full price. I refused.
After much research, I found an online site with the same dress (used) for $700 … except when I received the dress—weeks before my wedding—I realized it wasn't the same at all. The dressmaker had used polyester instead of satin, and the color was gold instead of white. I couldn't wear it.
I returned the dress and rushed to the bridal shop, begging them to sell me the sample dress. "We can do that, but we'll have to have it cleaned and tailored," the clerk warned, "and that will cost extra."
"How much extra?" I asked. A whopping $500. With taxes and rush delivery fees, this filthy, tattered dress cost nearly $2,000. I'd run out of time and options, so I prayed, "Lord, I felt sure this was my dream dress. Why has everything gone wrong?" That's when He showed me this wedding dress was a picture of His love for me.
God once had a dream of me: beautiful, sparkling, brand new. When He found me, I was worn out, dirty, and frayed. My soul needed cleaning and my tattered heart repairing. I wasn't worth the price it would cost to do that, but He saw the beauty that could be—the beauty of something He dearly loved—and He paid full price for me with the blood of His only Son.
Ask God to make each day new for you until you are completely ready to be His bride.
(Photo courtesy of pixabay.)
(For more devotions, visit Christian Devotions.)
---
---