Pray for those who despitefully use you. Matthew 5:44 KJV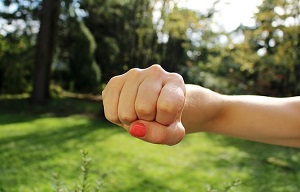 My co-worker's words were unkind and untrue.
How could this woman say such a thing about me? I fumed. All day, her words simmered in my soul. Each time my mind hit the rewind button, my eyes narrowed and my jaw tightened.
That night as I lay in bed, I thought about what I'd do the next time I saw her. Avoid her? Confront her? Simply pretend I didn't know what she'd said?
I also thought about what I should do. I knew what Jesus had said in Matthew 5, but I thought, How can I possibly pray for this woman with a sincere heart? I'd rather tell her exactly what I think and then complain to other people. I'd rather harbor a grudge and avoid her. But Jesus said if I want to please Him, I would pray for those who hurt me.
The next morning when I sat down to have my devotions, my heart was restless, so I wrote my co-worker's name down on my daily prayer list. Then I admitted my feelings to God. "Lord, I don't like this person or what she did to me." God knew what had happened. I didn't need to airbrush what she had done or camouflage how I felt about it.
Next, I confessed my unwillingness to change my attitude. "Lord, I can't get over this. I'm too angry, too hurt."
Then I reminded myself that God loves this woman as much as He loves me. He offers the same forgiveness to her that He offers to me. I said, "Lord, help me see what You see when you look at her."
Several weeks passed. One day, my co-worker and I were both working in the copier room. She seemed agitated, so I asked, "How's your day going?" As she revealed details about an ongoing trial in her life, I realized why she might have misjudged me and also recognized that I'd misjudged her. I felt the Holy Spirit nudge my heart, and the stone of resentment I'd been cradling in my spirit cracked.
My attitude toward those who offend me doesn't change overnight. Sometimes it takes months. But gradually, God changes my perspective. He instills sympathy for others in me and provides humility about my own faults.
Pray for those who have hurt you. Doing so gives God an opportunity to work in your heart.
(Photo courtesy of pixabay.)
(For more devotions, visit Christian Devotions.)
---
---