As the Philistine moved closer to attack him, David ran quickly toward the battle line to meet him. 1 Samuel 17:48 NIV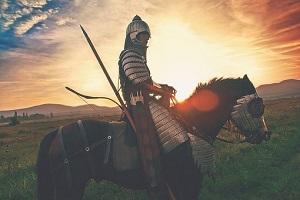 "Florida, here we come!"
Looking forward to trading our coats and boots for T-shirts and sandals, three friends and I gathered at the airport for a much-anticipated vacation. As we chatted, I noticed one of them was hoarse. She explained she hadn't been feeling well during the past couple of days, but added something inspirational: "But I refuse to let the devil take this blessing from me."
Throughout the trip, she struggled with a bad cough and nasal congestion, but all of us fought against the Enemy's attack with prayer. Although she had to sit out a couple of activities to rest, she was able to enjoy the fellowship and beauty of God's creation. What she declared at the outset of our trip came to pass: the Devil did not take God's blessing from her.
When a health challenge hits, some Christians forget that health and strength belong to them as part of the salvation package Jesus has provided. He cares for our spiritual and physical state as Matthew relates. When evening came, many who were demon-possessed were brought to him, and he drove out the spirits with a word and healed all the sick. This was to fulfill what was spoken through the prophet Isaiah: "He took up our infirmities and bore our diseases" (8:16-17).
No matter what challenge we face—financial difficulties, family problems, work issues—we're fighting from victory rather than for victory. Our victories result from spiritual weapons, but they can also include natural ones such as medical professionals, biblically-based financial planning, and wise Christian counselors. When David faced Goliath, he fought in the name of the LORD Almighty, but he also brought the natural tools of five smooth stones and a slingshot.
The full armor God gives us doesn't include a single piece that covers our backs, because He doesn't intend for us to run from battles, but to be strong in the Lord and in his mighty power.
Fight from the victory you already have, rather than for victory.
(Photo courtesy of pixabay.)
(For more devotions, visit Christian Devotions.)
---
---