To him who sits on the throne and to the Lamb be praise and honor and glory and power, for ever and ever! The four living creatures said, "Amen," and the elders fell down and worshiped. Revelation 5:13-14 NIV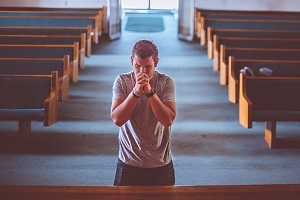 I didn't hesitate to get down on the filthiest part of the plane.
On a recent international flight, I awoke in the wee hours of the night to discover that my eyeglasses were no longer perched on my nose. Nor were they hooked on my shirt, lying on my lap, or fallen by my feet.
Alarmed, I flicked on my overhead light, waking my Korean seatmate, who promptly joined my search. The passenger across from me used his phone flashlight to light the aisle. A flight attendant arrived to help. She stooped while I dropped to my hands and knees to search the dark floor. How would I manage our three-week trip without my glasses? Several rows back, my husband noticed the commotion and moved forward to see what was the matter. Immediately he began praying aloud to our Father in heaven for help.
Suddenly, I was surprised I could get down on the dirty plane floor. Years ago, a fall had injured my knee, causing a limp and a reluctance to kneel even for prayer. But having recently memorized Revelation 4 and 5, I had discovered that twenty-four elders in heaven bow before the throne of God. They bow, but I don't? Despite the pain, I found myself willing and able to kneel to search for my glasses.
Disappointed at my unsuccessful hunt, I clung to my armrest to get up. A tap on my shoulder made me turn toward the front of the plane where a smiling young man held out his hand with my glasses—silently pointing to the dark floor several rows ahead. Relieved, we all returned to our seats. I turned off my overhead light.
Deplaning the next morning, I asked a flight attendant, "Was it you who found my glasses?" He shook his head. Another sandy-haired attendant bid us farewell near the cockpit. "Did you find my glasses?" He smiled and nodded. "I thought you were an angel." I laughed. "Thank you again!"
Father, thank You for my glasses and for helping me see I can get on my knees to worship You again. May I walk humbly with You.
God deserves your worship. Kneel before him.
(Photo courtesy of pixabay.)
(For more devotions, visit Christian Devotions.)
---
---