Behold, children are a heritage from the Lord, the fruit of the womb, a reward. Like arrows in the hand of a warrior are the children of one's youth. Psalm 127:3-4 ESV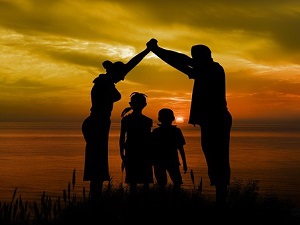 We finally found the house in which we'd settle down.
Like many other buyers, we had saved a down payment, but did not have anything close to paying off the entire purchase price. We attempted to borrow the rest through a home mortgage loan and were glad we'd have a place we could finally call "home." We knew this meant making monthly payments for years to come.
When it came to adopting our sons, we also had to make a payment to the agency that helped us adopt them. This became a down payment for all the other investments we would put into them as they grew. Their challenges and difficulties became ours as we struggled together to understand God's great plan for their lives. They became the heritage and the reward God promised us.
The psalm reminds us children are a legacy given by God and are an investment of a lifetime.
In our consumer-driven culture, we often think of children as a commodity, something we may or may not choose to obtain. The decision to adopt changed us because it helped us realize children without parents are still worth having. And no worthwhile investment pays off overnight.
Our many payments finally came to fruition when our adopted children understood the meaning of family as a social construct. Seeing one of our sons prepare for marriage was like "paying off the mortgage." Looking back is when we see most clearly that children are a blessing from the Lord.
Don't shortchange the possibility of an adopted child to change your life. You might get more than you bargained for.
(Photo courtesy of pixabay.)
(For more devotions, visit Christian Devotions.)
---
---