So if the Son sets you free, you will be free indeed. John 8:36 NIV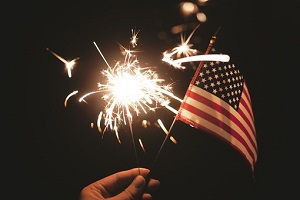 "What can I do? I'm a senior citizen."
Frank and Jerry are two senior citizens in my small town of four hundred people who have dedicated themselves to hanging American flags on patriotic holidays at several locations along the main street of Sandborn. I notice their efforts and appreciate their faithfulness. They have chosen this way to show their thankfulness for the freedom of our beautiful land.
Throughout the history of the United States, men and women have shown their love of country by serving in different ways. Many have given their lives to secure and preserve our freedom. Loved ones have watched family members march away to war, never to see them again. We are thankful for the sacrifices made for our freedom.
Christians enjoy an additional freedom and are doubly blessed with the freedom Jesus Christ offers. He suffered, gave his life, and rose again so we might have spiritual freedom. He offers freedom from the power of sin and freedom for a fulfilling and eternal life with Him.
On this July celebration, let's pause amid the parades and cookouts to remember the sacrifices others have made throughout America's history. Let's also remember Jesus Christ, who gives the greatest freedom—one that can never be taken away.
If you are in good health, think of something you can do to help celebrate freedom.
(Photo courtesy of pixabay.)
(For more devotions, visit Christian Devotions.)
---
---