If you declare with your mouth, "Jesus is Lord," and believe in your heart that God raised him from the dead, you will be saved. For it is with your heart that you believe and are justified, and it is with your mouth that you profess your faith and are saved. Romans 10:9-10 NIV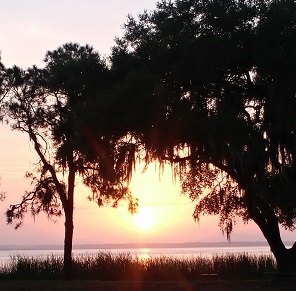 Easter has always been hard for us.
Since he was a child, my disabled son has hated Easter. It scares him. Even as an adult, he still can't manage seeing the dead body of Christ hanging on the cross. Honestly, I have a hard time seeing it too. But it's for a different reason.
Where Chase is fearful of the scene, my heart is simply ripped out of my chest. Wrapping my head around the sacrifice is difficult. I feel undeserving and guilt ridden. It is not uncommon for me to burst into tears when I see the Passion story.
Our church did a mini version of the Passion play for our children. Those who directed the walk were very sensitive to what small children could take in, so instead of Jesus hanging on the cross, it was draped in purple cloth, surrounded by green plants, and adorned with a crown of thorns on top.
A soft light lit the cross from the bottom and conveyed the story perfectly. During this scene, we also saw the angels at the tomb who said, "Do not be afraid. He has risen. Go and tell everyone." The words were simple yet powerful. He has risen. Go and tell everyone. Wow.
Paul said it well. Declare with your mouth Jesus is Lord. Believe with your heart He was raised from the dead and salvation is yours. He wanted the people to put their heart where their words were. Believe and profess. The sacrifice was made for us.
Easter can be scary when we think of the level mankind stooped to end Jesus' life. Taking in the cruelty of man is hard. But what an offering. What a gift. We earned God's acceptance and forgiveness through that cruelty. It shouldn't be hard for us to open our hearts and believe, then open our mouths and profess that Christ is Lord. He died, was buried, and was raised from the dead, overcoming that which Satan will never overcome.
On Easter morning, remember that Jesus rose with the morning sun and that His glory still shines above all else. Rejoice. Believe. Declare Him King of Kings and be saved.
(For more devotions, visit Christian Devotions.)
(Phote courtesy of Cindy Sproles.
---
---