Blessed is the one whose transgressions are forgiven, whose sins are covered. Blessed is the one whose sin the LORD does not count against them and in whose spirit is no deceit. Psalm 32:1-2 NIV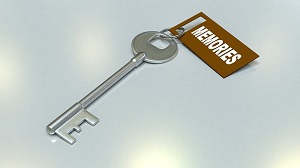 I gathered the pieces and hid them in the bottom of the trashcan.
When I was a young girl, I broke my mother's casserole dish. I still remember the feeling of its smooth surface, slick with water, as it slipped through my hands. For a moment, my heart stopped. Then, there was a loud crash and the dish shattered. When my mother came home, she asked, "Do you know what happened to my casserole dish?"
I am ashamed to say I lied. I told her I had no idea what had happened to it. My mother looked at me sadly and said, "I found the pieces in the bottom of the trashcan. I am very disappointed in you for lying."
Many years later, I stumbled across the same dish at an antique store. The memory of my mother's disappointed face rushed back to me. I purchased the dish immediately, lovingly wrapped it, and gave it to her as a gift.
When my mother opened the present, she was confused. "Thank you," she said, "but I really don't need another casserole dish."
"Don't you remember?" I asked. "This is a dish like the one I broke when I was young!"
She thought for a long time, then said with a smile, "Oh, I forgot all about that. I forgave you years ago."
Although Mom had completely forgotten about the incident, it took me years to forgive myself. The forgiveness my mother showed me mirrors the forgiveness that God, our heavenly parent, shows toward us.
The psalmist tells us we are blessed when our sins are forgiven. We have no need to carry our guilt and sin with us for years—the way I carried the guilt I felt over breaking my mother's casserole dish.
Sometimes, forgiving ourselves for mistakes we have made in the past is difficult, but God waits to offer us forgiveness. All we need to do is ask.
If there is something you have carried on your heart for years, ask God's forgiveness—and then forgive yourself.
(Photo courtesy of pixabay.)
(For more devotions, visit Christian Devotions.)
---
---