For you know that it was not with perishable things such as silver or gold that you were redeemed…but with the precious blood of Christ. 1 Peter 1:18-19 NIV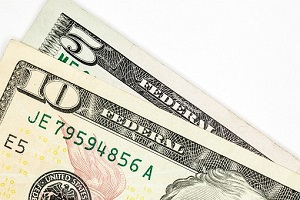 "That'll be nineteen dollars and six cents," the cashier droned.
I opened my wallet and pulled out a ten-dollar bill. "Just a minute," I said. "I know I have another ten."
The smartly dressed woman behind me cleared her throat impatiently. Embarrassed, I thumbed through old receipts until I found a crumpled ten-dollar bill. "I'm sorry," I said as I attempted to flatten the bill between my hands and make it presentable.
"No worries," the cashier said. "Ten bucks is ten bucks. I don't care what it looks like."
Two bills—one crisp and unwrinkled, the other tattered and missing part of a corner. Both of equal value, yet one seemingly insufficient.
Sometimes I feel like that damaged bill: worn, wrinkled, spent. For years, I've tried to prove my value—as a spouse, a parent, an employee, a volunteer. Going, doing, serving. Regardless of how much I do, I always feel as if I'm not enough, but everyone else is perfect.
Like those ten-dollar bills whose value the U.S. government determines, my worth does not lie in my external appearance—how poorly or how well I perform. The Creator of the universe proved my merit two thousand years ago when He paid the ultimate price for me by sacrificing His only Son.
Economists tell us demand governs the price of anything. God demanded my freedom when He redeemed my life and declared me accepted, loved, forgiven, and purchased for all eternity.
My worn and wrinkled life has value simply because I am God's child. Nothing I do can compel Him to love me more or less. He loves me because I am His.
Jesus Christ established your value on the cross when He cried, "It is finished." If you haven't, accept the value God has assigned to you.
(Photo courtesy of pixabay.)
(For more devotions, visit Christian Devotions.)
---
---