For we are strangers before thee, and sojourners, as were all our fathers: our days on the earth are as a shadow, and there is none abiding. 1 Chronicles 29:15 KJV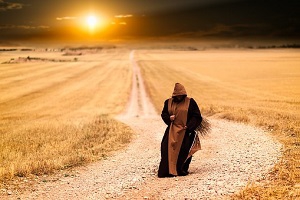 Pilgrims must be prepared at all times.
Our church once staged a drama about the return of Jesus. People waited patiently in the church for the Lord's return, but eventually began leaving one by one as they lost hope. The pastor left to get some food and told one of the members to keep watch. The member also left. However, a prostitute refused to leave. She wanted to see this Jesus people were talking about. Suddenly, Jesus came, and she was the only one whom Christ took.
The Scriptures remind us we are strangers who should shun evil desires such as sexual immoralities, lies, and fraudulent engagements.
Satan designs sins to trap people's souls in hell. We have to watch our conduct so our deeds will enable people to glorify God. As pilgrims, God also wants us to submit to the constituted authorities, whether governmental or religious, so we won't have issues when Jesus returns.
God is a righteous Father who wants us to make our journeys on earth devoid of unrighteous tendencies dictated by the world. The way we do this is by focusing on Christ as the author of eternal salvation. As pilgrims, we endure until the end. Life on earth is short and full of vanity. We came into it empty and will leave it the same way.
Ask God to help you see yourself as a stranger in this world so you can behave wisely.
(Photo courtesy of pixabay.)
(For more devotions, visit Christian Devotions.)
---
---