Just as a father has compassion on his children, So the Lord has compassion on those that fear Him. For He Himself knows our frame; He knows we are but dust. Psalm 103:13-14 NASB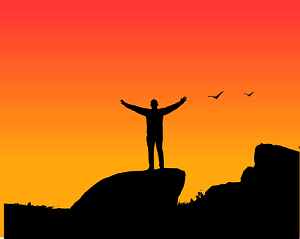 The urge to leave my desk and go outside into the beautiful Arizona morning overpowered me.
I felt compelled to take Andrew Murray's, With Christ, with me. Sitting down, I realized a large white dove sat a few feet away under our fountain. He remained still until I finished finding what the Spirit had for me. Then he flew away.
Comments by Murray fit into my recent desire to learn more about God's Fatherhood. Putting them into my own words, I wrote them down so that I wouldn't forget.
The words, "Our Father," mean His children are bound in the most tender relationship known to people. Our heavenly Father is a King and has a Kingdom. His children are royalty, but walk in another king's kingdom which is surrounded by minions of the dark side.
The King is a loving Father to His children. Fathers judge their children by their efforts, whereas masters judge by results. A father weighs while others only measure. Our clumsy and poor beginnings mean a great deal to Him, even if they mean little to others.
Opening up to my heavenly Father's Fatherhood helped me realize what type of parent and grandparent I desire to be. I want to be tenderhearted, remembering they are little and only human. I want to be watchful and a good teacher, loving at the core of my relationships. I desire to be a good model of parenthood so they might have a positive view of fatherhood that won't hinder their relationship with their heavenly Father.
Pray every day for the wisdom to model to your little ones that God is a Father who is loving, tender, and concerned for their well-being.
(Photo courtesy of pixabay.)
(For more devotions, visit Christian Devotions.)
---
---