For all have sinned and fall short of the glory of God. Romans 3:23 NIV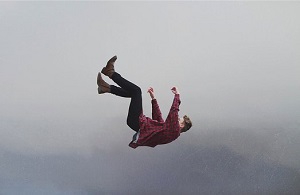 After helping someone who appears ungrateful, I become offended.
Even though my intention in helping starts out well, when the response of the recipient is as though I owed them something, I question the recipient's lack of gratitude. In truth, I am learning that I should question my attitude. Did I really help to demonstrate the love of Jesus? Did I give because I wanted to feel good about myself?
Whenever "I" gets in the way, despite the fact that giving took place, I have fallen short of the glory of God. The closer I draw to the Lord, the more I realize how much I need His transforming power, particularly with humility. My journey toward humility is unending. The closer I think I am to reaching it, the more I realize how far away I am.
This is where grace comes in. All have fallen short of God's glory and will continue to do so. Even in the meditation about the fall, we continue to fall. When we meditate on our falls, failures, and sins, we subconsciously condemn ourselves, forgetting there's no condemnation for those who are in Christ Jesus.
The difference between a short fall and a long one is Jesus. Dependence upon Jesus' finished work on the cross causes us to look up, get up, and go boldly before the throne of grace to find help and get going again. This shortens our down time.
But when we fall and are independent, we spend our time in limbo looking back, thinking we have overcome our area of failure. What a mess I've made. Will I ever get it right? We may even decide to stay down for a while and settle into failure. Satan loves this.
When you fall, don't stay down for the count. Look up. Your help comes from the Lord. Get going again in the power of the Holy Spirit. Make your fall a short fall.
(Photo courtesy of pixabay.)
(For more devotions, visit Christian Devotions.)
---
---