From the end of the earth will I cry unto thee, when my heart is overwhelmed: lead me to the rock that is higher than I. Psalm 61:2 KJV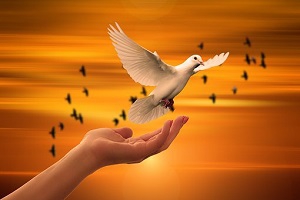 JoAnn Carlson said, "The minds of people are so cluttered up with everyday living these days that they don't, or won't, take time out for a little prayer—for mental cleansing, just as they take a bath for physical outer cleansing. Both are necessary." (Forbes Book of Business Quotations, ©1997; pg. 676-677)
Praying parents leave a permanent imprint on their children. I remember a scene from childhood of my father praying. He was a tenant farmer who had dairy herds and fields of grain to care for. He worked from before dawn until well after sunset and made little money. After working eighteen hours or more, he asked God to take his burdens so he could rest. His nightly prayer was comforting when I chanced to hear it and is a treasured memory.
Prayer is easy. God knows all about me. It is my responsibility to tell Him my concerns every day for mental cleansing. He tells me in His Word how to set up my prayer time for success—to prepare a secluded place that is just mine and to close the door to interferences.
Prayer is hard because it requires discipline for me to carve out time and to set boundaries. If I have done my part in preparation, He and I will be able to communicate. He yearns to hear concerns from my heart and my lips each day.
I have found when I am going through a storm, I am drawn to reading the Psalms in the Message translation. I like the wide margins where I can write my anxieties to my heavenly Father. Over time, this way of praying has proven to be a sweet reminder of how He answered prayer and led me through bad days in the past.
Having a written account of our prayers helps us see how our heavenly Father answers them. Dealing with hindrances that keep us from our cleansing closets is also important.
God craves to hear from you. Make time for Him.
(Photo courtesy of pixabay.)
(For more devotions, visit Christian Devotions.)
---
---