But ask the animals, and they will teach you, or the birds in the sky, and they will tell you; or speak to the earth, and it will teach you, or let the fish in the sea inform you. Which of all these does not know that the hand of the Lord has done this? Job 12:7-9 NIV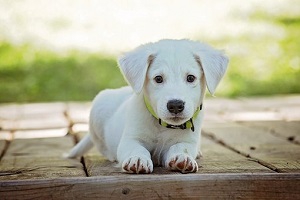 He beat his tail on the ground in a frantic welcome.
My new puppy reclined on top of my Bible with wet, chewed up pieces falling out of his mouth. Crumpled moist pages lay in the spine of the binding. I walked into the room, not sure how I felt about this situation. This puppy was so delighted with my presence that he rolled over with shivers of delight. He earned his name that day. A biblical one, of course. Moses.
I think Job had a teachable spirit. He suggested to his friends that even animals could teach God is the master of all life. Job loved God and was delighted with His presence. He served God with reverence, and God's favor was on Job. But Job had lots of bad things happen to him. He grew frustrated and impatient when he felt he had done nothing to deserve those bad things.
To some degree, we've all felt as Job did about life's circumstances. Perhaps he felt far away from God's presence. Maybe God's word felt all chewed up and in pieces. Job cried out for justice, and God appeared to him. He reminded Job that He created the earth and oversees everything in it. Because of Job's teachable spirit, his delight in God's presence returned.
We don't have to wait for God to walk into a room to delight in His presence. God makes us aware of His presence in other ways. We may not have a tail to wag, but God knows our heart. He wants us to call out to Him as Job did. He is delighted with His masterpieces.
Delight in God's presence. Remember, you are His masterpiece.
(Photo courtesy of pixabay.)
(For more devotions, visit Christian Devotions.)
---
---