For we are God's masterpiece. He has created us anew in Christ Jesus, so we can do the good things he planned for us long ago. Ephesians 2:10 NLT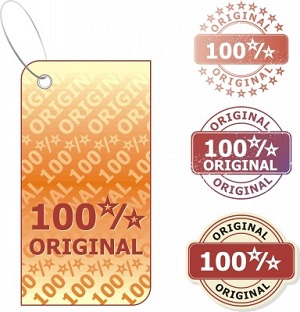 Doppelganger: an apparition or double of a living person.
Some say everyone has an exact look-alike somewhere in this world. I've seen a few of these doppelgangers myself. My husband, for instance, has been mistaken many times for a famous country singer. (Thankfully, he has yet to accommodate their request for an autograph or for him to sing.)
Most movie and TV stars have doubles—people who can pass for them with no questions asked. But no matter how much a person may favor someone else—even identical twins—the truth is we're all originals. No fakes, phonies, or counterfeits. We are, as the psalmist says, fearfully and wonderfully made. Paul even refers to us as God's masterpiece.
The Bible tells us God is love. He is also creativity in its fullest measure. My grandmother used to say, "We might be cut from the same cloth as someone else, but even that piece of cloth has different colors, textures, and thread patterns."
God knew what He was doing when He fashioned us in our mother's womb. He makes no mistakes. There's not another individual on the face of the earth who has your exact smile, dimples, laugh, or shape of your eyes and nose. No one has the same fingerprints. And no one sees or values things in the same way as you.
Whether we're short or tall, have curly hair or straight, are athletic or musical, God lovingly fashioned us and gave us unique attributes that belong to us alone. He gave us life and breath for a purpose, most of all for His glory and pleasure.
Embrace God's handiwork, and don't compare yourself to anyone. And never take yourself for granted—your appearance, giftedness, interests, passions, strengths, weaknesses, creativity, hopes, dreams, and even the desires of your heart. There is no one like you. Never has been and never will be. You are unique. Special. One of a kind.
Never forget that you are God's original.
(Photo courtesy of FreeDigitalPhotos.net and Vlado.)
(For more devotions, visit Christian Devotions.)
---
---