But if we hope for that we see not, then do we with patience wait for it. Romans 8:25 KJV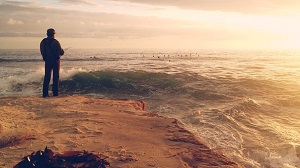 As a Corp Member during my one-year mandatory youth service at Igbokoda in Ondo State, I told a story.
A pastor married, but his wife could not conceive. After a time, the pastor could wait no longer and married another wife. Much to his chagrin, his former wife and the new one conceived at the same time. He discovered double trouble because of his impatience.
We are God's people and should not be lazy in whatever we do for Him, especially when serving. We also have to be patient with God. Patience is the cord that binds us with God, who always regards our helpless estate. When we face difficult moments, we should view God as our anchor and be ready to be hospitable, not retaliating when others offend us.
God is a great and patient Father with everyone. He has not dealt with us according to our sins. Had He, He would have destroyed the whole world long ago as a result of our various offences. God is patient and wants us to be patient with Him—and with others. When we tolerate one another, we can live at peace.
God's delays are not denials of our requests. Wait patiently on God. He will never forsake you.
(Photo courtesy of pixabay.)
(For more devotions, visit Christian Devotions.)
---
---