So is my word that goes out from my mouth [says the LORD]: It will not return to me empty, but will accomplish what I desire and achieve the purpose for which I sent it. Isaiah 55:11 NIV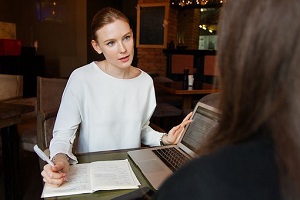 I received way too much "friendly advice" from other shoppers on how to handle my children.
I dreaded grocery shopping when my children were young. If my kids cried, women told me how to quiet them. If my daughter chewed on a piece of bagel, unwelcomed advisers pointed out the dangers of choking or the dangers of a high-carbohydrate diet. If my son had a runny nose, grandmothers lectured me on hygiene and germs. Eventually, I started shopping at a different store at low-traffic times just to avoid the avalanche of advice.
The English word advice comes from an old French phrase that means "it seems to me." Apparently, many people have an it-seems-to-me button that's permanently stuck in the on position. Another problem is that most of us don't want to listen to advice. We just want to illuminate other darkened minds with our own seems-to-me brilliance. And thanks to the worldwide web, too much seems-to-me counsel is based on misquoted, fallacious, and even harmful information.
However, God's advice is never empty, which means never "without effect." God's Word is the only counsel I can trust to be totally accurate and beneficial. Following God's counsel will always bring about good in my life.
How much of the advice that I dispense to friends and family, maybe even a few strangers, is without effect? Probably more than I think. But if I speak God's words in a loving, encouraging manner and refrain from adding my own it-seems-to-me commentary, the effectiveness of my counsel increases.
When we speak to others, our goal should be directing their attention to God's wisdom, not our own.
Find someone whom you can encourage with the powerful promises and timeless truths of God's Word.
(Photo courtesy of pixabay.)
(For more devotions, visit Christian Devotions.)
---
---