A person plans his course, but the Lord directs his steps. Proverbs 16:9 NET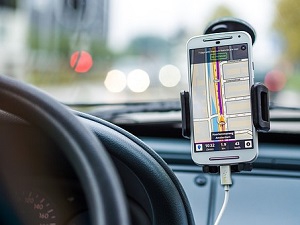 After a nice dinner with friends, I got into my 1990 Volkswagen Vanagon and headed home—20 miles away.
It had just turned dark, and I noticed the battery light on the dash shining brightly. Hoping it would go off, I hurried home. The area was unfamiliar to me, so I turned on the GPS. I wanted to take the freeway to get home as quickly as possible, but the GPS gave me a route on secondary streets. I deviated and turned up a street I recognized as a freeway entrance, but could not find the on ramp. The GPS rerouted me back on secondary streets. Twice I tried to find the freeway entrance, but with no luck.
By the time I was halfway home, I decided to follow the GPS. The battery light stayed on, and I wondered if the alternator was dying. I prayed for the Lord to get me home safely.
The engine died when I stopped for the stop sign at a dark intersection close to my driveway. I could not restart it, and the lights went out. One house away, a crew worked on power lines. They had lights flashing and safety cones all along the street, causing traffic to slow and make a detour.
Roadside service came in thirty minutes when a driver showed up and pushed my car to the side of the road. By then, the power crew had finished their work, leaving the street dark while I was safely parked on the side. The next day, the mechanic confirmed the alternator was kaput.
As the wise king wrote, God directs our courses. Although the GPS normally uses the freeway as the shortest travel route, this time it kept me on secondary roads where I would be safer had the car died on the way home. I realized afterward I made it home without any stops at lights or signs. I lived through a miracle where God guided my steps.
Let God guide the course of your life.
(Photo courtesy of pixabay.)
(For more devotions, visit Christian Devotions.)
---
---