Instruct the Israelites to bring Me a sacred offering. All those whose hearts move them are to make an offering to the One who delivered them from bondage. You should accept only the finest things: gold, silver, and bronze metals. Exodus 25:2-3 The Voice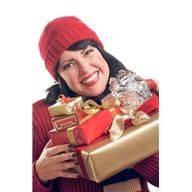 Ah, December. The time of get-togethers with family and friends. Time of goodwill and cheer. Time to give that treasure we have carefully stored for such a time as this. It's time for the White Elephant Gift Exchange. Personally, I'm not a fan of those parties where you get a gift, and then anyone who wants to can take it from you.
Decades ago, I participated in a women's church group gift exchange that was NOT intended as a White Elephant exchange. I ended up with a metal address thing that had a little red arrow that slid down the side and flipped open. You know, the kind someone might have accidentally dropped into their purse from their office, and once they got it home, figured it'd make a lovely Christmas gift.
During a recent Bible study lecture on the building of the Tabernacle during the Israelites' wanderings through the desert—recorded in Exodus 25-33—the leader said something that is the genesis for this devotion. She pointed out how the people were to give of the best they had for the building of the Tabernacle. There were to be no White Elephant Gifts.
God wants our best, not the leftover junk we won't miss. He wants us to bring our gifts willingly, not grudgingly. God wants us to give Him the firstfruits, not whatever we have left at the end of the month. He created us. Just as He delivered the Israelites from their bondage in Egypt, He has delivered us out of the bondage of our sin through Christ's sacrifice on the cross of Calvary. God expected the Israelites to give their best. He expects no less from us. And He definitely deserves more than a metal address White Elephant thing.
What we give back to God reflects what we think of Him. Give Him the best you have to offer, no matter what your best might look like. After all, He gave us His best—Jesus.
This Christmas, declare No White Elephant Gifts Allowed.
(Photo courtesy of office.microsoft.com.)
(For more devotions, visit us at www.christiandevotions.us.)
---
---