I can never escape from your Spirit! I can never get away from your presence! If I go up to heaven, you are there; if I go down to the grave, you are there. If I ride the wings of the morning, if I dwell by the farthest oceans, even there your hand will guide me, and your strength will support me. Psalm 139:7-10 NLT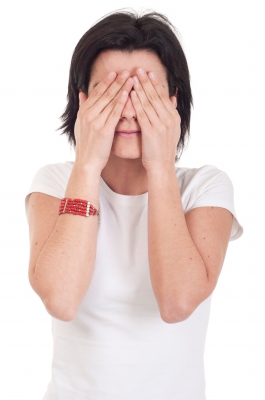 The three-year-old sat in the middle of the floor and covered his eyes with his chubby fingers.
"You tant fin' me now," he said. All of the adults laughed. The child truly thought that because he couldn't see anyone in the room, they couldn't see him.
But the age-old game of hide-and-seek ceases to be funny when we try it out on God. "If I can't see you, Lord—if I'm not praying, reading your Word, holding my tongue, controlling my anger, being obedient, and worshiping You as Lord of my life—then You can't see all my mistakes and the mess I've made of my life. I'll come out of hiding when I clean up my act."
In reality, hiding from our Creator is impossible. He knows where we are every moment. He knows our thoughts and the intent of our heart. He hears every word spoken and sees every deed—good or bad. He even keeps track of the number of hairs on our head. The psalmist tells us there is no escaping His presence. And why would we want to?
Someone once said that trying to clean up our messes before we come to God is like waiting for the bleeding to stop before we go to the hospital. Our Father sees every need and patiently waits with open arms for us to run into them. He doesn't want us to try to hide from Him, and He certainly doesn't hide from us. God's game is only to seek. He pursues us with His relentless love and expects us to seek Him with our whole heart.
If you're living in the shadows, thinking you're not visible on God's radar, take His hand and walk into the glorious light of His presence. He will make all things new. No more hiding.
(Photo courtesy of FreeDigitalPhotos.net and artur84.)
(For more devotions, visit Christian Devotions.)
---
---