Walk in a manner worthy of the Lord, fully pleasing to him, bearing fruit in every good work and increasing in the knowledge of God. Colossians 1:10 ESV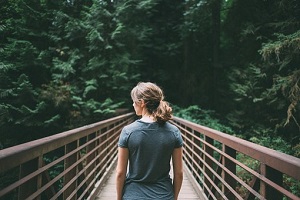 I once suffered from walk withdrawal.
Prior to my family and I moving from New Jersey to North Carolina, I was preoccupied with packing, transporting, and unpacking. Consequently, I neglected my daily morning walks.
And it showed. When I woke up in the morning, I was stiffer than usual; when I went to bed at night, it took me longer to fall asleep. My neck seemed stiffer, and my joints seemed tighter. The lack of exercise also affected my mood. I was more lethargic physically and less focused mentally. It was a lose-lose scenario.
A lack of spiritual exercise also adversely affects our lives. When we allow busyness or schedule changes to interfere with our spiritual exercise time, we experience a variety of setbacks. If we neglect prayer and Bible study, our wills stiffen, and we may resist the Spirit's prompting. Our patience tightens, and we snap at family members, friends, and coworkers. We're lethargic about God's faithfulness and goodness to us. We're less likely to detect temptation and more susceptible to error.
Fortunately, both problems have a simple solution: walking. I've experienced walk withdrawal before. I know as soon as I take my morning walk again, I'll feel much better, both physically and mentally. Sporadic exercise, like climbing up and down stairs as I lug boxes and furniture around, is no substitute for longer outdoor walks, which increase my cardiovascular fitness, enabling my heart to pump blood and oxygen more efficiently.
The same is true in my spiritual life. As soon as I take that extended morning walk with God again, my spiritual health will improve. When I ask the Holy Spirit to speak to me each day as I read my Bible, my will becomes more supple and my attitudes relax. My resistance to sin strengthens, and my desire to please God intensifies. Investing twenty to forty minutes a day in my spiritual cardiovascular fitness increases the patience, love, mercy, and grace the Holy Spirit can pump throughout my life.
God knows our spiritual health depends on a consistent daily walk with Him. That's probably why the word walk is used over 200 times in the Bible. Like physical fitness, spiritual wellness requires dedication.
Take time each day to check your spiritual fitness level.
(Photo courtesy of pixabay.)
(For more devotions, visit Christian Devotions.)
---
---