When I am afraid, I put my trust in you. Psalm 56:3 NIV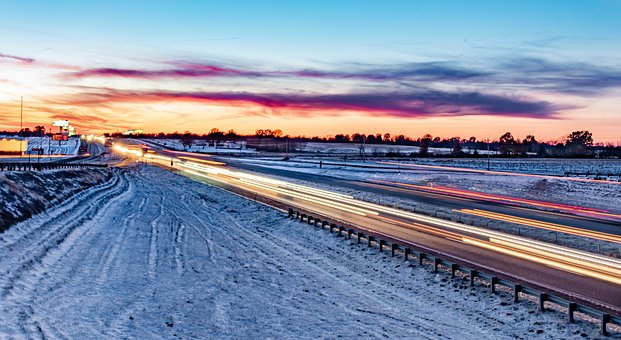 I had never experienced such fear on the interstate.
On the morning of January 2011, we left our home in our old blue pickup truck and headed for Knoxville, Tennessee. Anthony, our oldest son, was scheduled to audition that morning. Overnight, the weather had turned, and snow fell. As we got on the interstate, we saw how bad the weather was. The snow fell so hard that seeing was difficult. We witnessed many accidents that day.
One accident I remember well. A truck that passed us soon began doing donuts in the middle of the interstate. Cars and trucks that followed had to maneuver around the truck to avoid getting hit.
As our truck neared this spinning donut, I felt fear as I had never felt before. The fear of hitting the spinning truck. The fear of my husband and children being injured or killed. The fear of our truck causing other accidents.
Suddenly. the truck stopped spinning and slid off the interstate into the median. With just seconds to spare, our truck's bumper missed the spinning truck. Thankfully, the truck stopped gently in the median, and the driver was uninjured.
Joy filled my heart as we realized God had protected us from an accident. Although the other driver had wrecked, he was alive and well. Later that morning, we arrived safely for the audition.
When David wrote about fear, he knew what it felt like to be afraid. As a shepherd boy, he killed bears and lions to protect his father's animals.
Fear can also lead us in a different direction. Think about David the shepherd boy later becoming king. Even King David cried out to God for help. God doesn't want us to live our lives in fear. Sometimes, He uses that fear to prepare us for greater things.
What can you do to drive away your fears?
(Photo courtesy of pixabay.)
(For more devotions, visit Christian Devotions.)
---
---