For though the righteous fall seven times, they rise again, but the wicked stumble when calamity strikes. Proverbs 24:16 NIV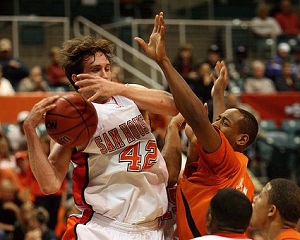 My collegiate basketball coach, Coach Temple, had a favorite drill during pre-season conditioning: "the ladders."
I still dread the thought of them. Ladders are a form of interval training that are divided into two segments of timed, full-court sprints and rest. The sprints increase in frequency and intensity while the rest periods decrease over an extended period. During those rest periods, Coach Temple would remind the team that the ladders built grit. If wanted to win, we needed more grit.
Angela Duckworth, in her powerful book, Grit: The Power of Passion and Perseverance, states that "the secret to outstanding achievement is not talent but a special blend of passion and persistence." Grit. We won't find the word in Strong's Concordance, but there are several examples of it throughout Scripture.
God did not fill the Bible with stories of people who accomplished supernatural feats but with those who stubbornly rebounded from disappointment, discouragement, and defeat. They doggedly held on to the promises of God despite their circumstances and plight and were filled with an unwavering expectation that God would use them despite their deficiencies. They had grit.
Caleb demonstrated grit when his military recognizance team declared that the odds of conquering the Promised Land were too great: "We should go up and take possession of the land, for we are well able (Numbers 13:30).
Ruth demonstrated grit when facing poverty and possible death. She told her mother-in-law Naomi, "Do not persuade me to leave you or go back and not follow you. For wherever you go, I will go, and wherever you live, I will live; your people will be my people, and your God will be my God" (Ruth 1:16).
Sometimes, our lives resemble the "ladders." We face an ever-increasing intensity of trials and problems with only small respites. God could be building grit in us, not because He is a tyrannical coach gleefully enjoying our pain and exertion, but because He is a loving Father who wants us to win.
Don't shy away when God tries to build grit in you.
(Photo courtesy of pixabay.)
(For more devotions, visit Christian Devotions.)
---
---