Generous in love—God, give grace! Huge in mercy—wipe out my bad record. Scrub away my guilt, soak out my sins in your laundry. Psalm 51:2 MSG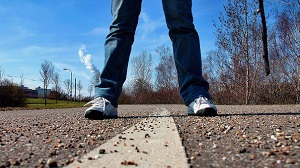 I bought a new power washer and tackled our front walkway.
The walkway didn't look that dirty, but it was. As I started, a stream of water shot out of the water gun. In one easy sweep, I carved a clean line on the concrete. I couldn't believe the difference.
As I looked at the results, I was amazed at what I had accepted as normal. The front walkway of my house was grayed, mossy, dull, and dirty, but I hadn't noticed because it happened slowly. Over the years, I had come to accept what I saw as normal. I could have gone another fifteen years without washing this sidewalk and never known what was underneath.
I looked at that one square of clean concrete and was proud of my work. Then I saw four more squares to clean. I was soaked, my hand was sore from pulling the trigger, my shoes were dirty from all the loosened dirt, and my back hurt from bending over.
My sidewalk is just one example of the things I ignore or get used to. This overlooking happens in my house, my relationships, my spiritual walk, and even the knowledge of myself.
The Message translation of Psalm 51:2—"Soak out my sins in your laundry"—makes me laugh and cringe all at the same time. Surrendering to God—allowing Him to soak and scrub me and make me clean—is exhausting and consuming. Sometimes it's painful. It's a lot of work. Just when I get one area of my life clean, I see more dirt ahead. Sometimes I just want to give up and stop.
But God loves us, and we should want to soak in His truth, which has the power to cleanse us.
If you have been cleansed by God's holy love, take the time to soak in His truth.
(Photo courtesy of pixabay.)
(For more devotions, visit Christian Devotions.)
---
---