But truly as the Lord lives, and your soul lives, there is but a step between me and death. 1 Samuel 20:3b ESV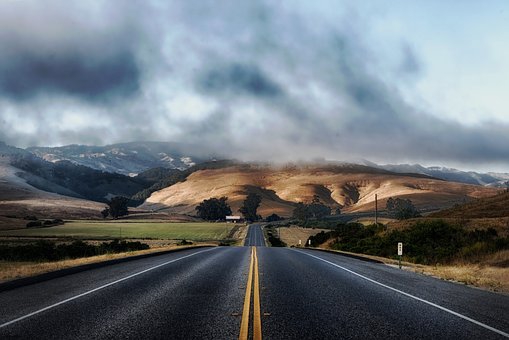 The sun was warm through the car's sunroof, and the breeze stirred my hair. It seemed like an ideal autumn day for a drive, but the morning's tranquility didn't last long.
A blaring horn split the air, and an out-of-control car came around the corner, veering into our lane. My husband's reflexes kicked in, and he swerved to avoid the careening vehicle—narrowly avoiding driving into the river that bordered the road on the right side.
My heart felt as if it would explode. I could barely catch my breath, even after we continued down the country road. I glanced at Craig. He took a ragged breath, glanced upward, and said reverently, "Thank you, Lord, for preserving us from that accident."
How fine is the line between life and death, heaven and earth? Google tells us the double yellow line in roads is approximately fifteen inches thin.
Author Timothy Pina said, "There's a thin line between life and death. It's God's grace that shows us how fragile we are."
We understand that fragility. A pickup truck crossed the double yellow line and hit our friend's motorcycle head-on. He spent two weeks balancing on the tightrope between heaven and earth and has a long road of recovery ahead of him.
How should we live if a thin line exists between life and death? Should we live in fear, or does another way exist? An accident, or even a near-miss, frightens us, but we don't need to spend every moment looking over our shoulders for threats.
We can live in the Lord, having committed our lives to Him. Then we can purpose to honor Jesus with our lives, whether by life or death.
Have you contemplated living with Jesus now? Your decision will place you on one side or the other of the thin line between eternity with Him or apart from Him.
(For more devotions, visit Christian Devotions.)
(photo courtesy of pixabay.com.)
---
---