Cast your cares on the Lord and he will sustain you; he will never let the righteous be shaken. Psalm 55:22 NIV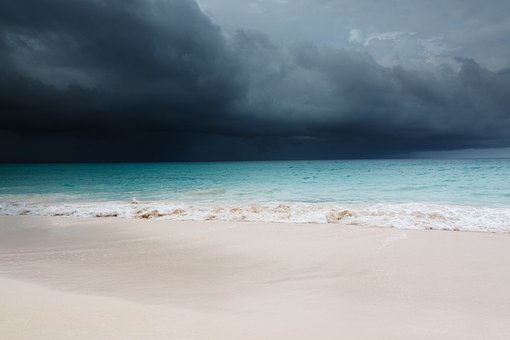 Coastal life can be lovely until a ravaging hurricane prances to your paradise.
I weathered a major hurricane when my children were small. Although we lived forty-five minutes inland, the wind impacts frightened me. I wondered if I could hold them tightly enough should the winds breach our home's walls.
Later, my daughter's family lived through a Category 4 hurricane in their coastal paradise. Again, we trusted God to calm their spirits and bring them safely through it.
Different seasons of life bring various kinds of storms. Some are sudden with no warning, while others are swift. Still, others remain for long periods. Regardless, the Lord is always there with me as I weather them. I can find Him when I stop to look for Him, pray, and cast my burdens on Him. I must let go and give my cares to God.
Storms of nature, sickness, trauma, relationships, or financial woes pile up through life's journey, building layer upon layer. By casting our burdens or cares on the Lord, He sustains us. Jesus calmed the seas and will calm our hearts and spirits. We can lean our heads on His shoulder, for He will carry us through dark times and into His glorious light.
Only the Lord can hold me up with His strength and power during life's storms. In Him, I experience real peace. Whether my storm waters are ankle-deep or waist-high, God can bring calm before the storm, guide me through the storm, and bring me out of the storms of life.
God is with us no matter what happens. Are you relying on God to carry you through the storm you're facing?
(For more devotions, visit Christian Devotions.)
(photo courtesy of pixabay.com.)
---
---