Trust in the Lord with all your heart ad lean not on your own understanding. Proverbs 3:5 NIV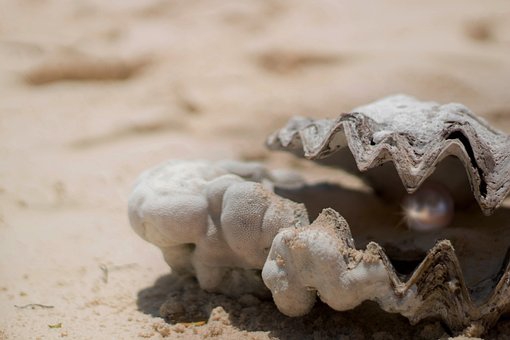 One day at school, my class previewed a book about oysters. A few students knew pearls came from oysters, but all were amazed at how the oyster formed them.
Pearls usually form when some parasite works itself into the oyster or other shelled sea creature. Then, out of defense, the oyster produces a fluid to coat the invader. For the next six months to seven years, the coating process continues as the pearl forms this valuable beauty.
In our lives, we face little, pesty situations. However, we also face more serious circumstances where we have allowed irritants into our lives or Satan has weaseled his way in. These trials can act like parasites, entering our bodies and making us feel bad, sick, or worse.
But how interesting that God allows the parasite in an oyster to transform into a beautiful gem. Isn't that what God wants for us too? He wants us to bring the parasites of our lives to Him in prayer so He can shut out the harshness of the world around us, protect us, and help us heal.
We can rest in God's arms, knowing He is our defender. When we turn to God and bask in His Word and wisdom, He will slowly soften the sting of our hurts and sorrows and provide biblical applications for our thoughts and reactions. As time passes and we continue to allow Him to be our fortress, He will strengthen us. If we remain in His glow, He will totally transform our parasites into pearls.
We can transform what Satan meant as destruction into a beautiful pearl through trial after trial. Alone, these gems are magnificent, but even more so when strung together into a necklace.
Take your problems to the Lord every day. Trust in His Word and not your own understanding. In return, you can adorn yourself with a strand of pearls that have provided you with His comfort, strength, and grace.
(photo courtesy of pixabay.com.)
(For more devotions, visit Christian Devotions.)
---
---