We are glad whenever we are weak but you are strong; and our prayer is that you may be fully restored. 2 Corinthians 13:9 NIV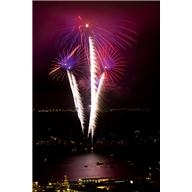 Once more it fell. The crystal ball slowly descended over Times Square in New York City, and I'm guilty. I watch every year as a two-million-dollar, twelve-foot wide, 11,875 pound, Waterford-crystal-covered hunk, drops 400 feet, while we shout the ten-second count down. I'm amazed at the mindset of people standing in Times Square, chest-to-back, jumping up and down, screaming, "Happy New Year," only to wake up the next morning and complain about the year that lies ahead. We're a fickle sort, aren't we?
Last year folks were instructed to be politically correct by saying Happy Holidays. This year we hear, Happy Holidays, Merry Christmas, and Happy Hanukkah, all in one breath. Retail sales were up 4.5% over last year, and personal spending rose .01% while wages, oddly enough, fell .01%. Again, I reiterate we're fickle. Still, we're brought together, united during the holidays. For an instant, time freezes and people rejoice as a group. They celebrate what has gone and what is to come.
Paul was a Christ-made man. Stricken along the road, he was blinded, then restored after his supernatural encounter with Christ. He went from Christian killer to Christian maker, and he grew saddened by having to continually defend the authority given to him by the Lord. He rejoiced in what was past in his life and praised what was to come. Even as he gently rebuked the Corinthians for their demeaning remarks, Paul prayed for them to be fully restored in Christ. He prayed for what was to come.
Though we are a country who could brag about all she has done for others, we are weak in Christ. The very foundation this country was built upon was one in which the founders could worship God without worry. Not any god, but God Almighty. We've slowly justified the deterioration of God's church and allowed it to become anyone's choice as opposed to only His.
Like Paul, I am glad when I am weak, for I know He is grooming me for better things. But I pray we will be fully restored.
Welcome in this New Year and mount up with wings as eagles. Wear the armor of God. March ahead. Rejoice for what is behind you, and give praise for what is to come.
Believe and be fully restored.
(Photo courtesy of office.microsoft.com.)
(For more devotions, visit us at www.christiandevotions.us.)
---
---