Wait patiently for the LORD. Be brave and courageous. Yes, wait patiently for the LORD. Psalm 27:14 NLT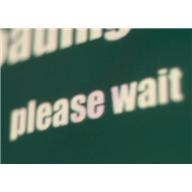 I saw the car put on its blinker and slow as it approached my driveway. Thinking it was my breakfast date, I went outside. But no, the car turned into the driveway after ours. I came in, sat down, and said "Lord, I hate waiting."
Right now I'm awaiting provision. A friend is dropping off an old twenty-seven-inch TV because ours just stopped working. So I am also waiting for him, hoping he arrives before my breakfast buddy so I won't have to leave my daughter to take care of the positioning of the new TV.
I am also awaiting funding for some major house-maintenance jobs. We desperately need to get them done, but we don't have enough money—yet. I know God will come through in one way or another. He always has … in completely remarkable ways. I keep a list of God's saves.
For example, my daughter needed thousands of dollars of orthodontic work, and it wasn't for appearances. Her teeth had no room to come in. I didn't know what to do, so I prayed. Soon after, I got a call from the orthodontist who had evaluated her. He was calling in response to a letter I wrote explaining there was no way we could come up with the money—at least by our own efforts. He told me it wasn't something he made a habit of doing, but he was offering to do all her dental work for free. This man was not a believer, but he was a tool in God's hands.
So when I say I am waiting now, it means I am waiting not just for my breakfast companion, but also for a miracle. I could easily name five more miraculous answers to prayer on the same or greater level than the one I just described. I know my God. I know He has a way. I'm just waiting for Him to reveal it. But I still don't like waiting.
How about you?
(Photo courtesy of office.microsoft.com.)
(For more devotions, visit us at www.christiandevotions.us.)
---
---