The book of the generation of Jesus Christ? Abraham begat Isaac; and Isaac begat Jacob; ?And Salmon begat Booz of Rachab; and Boaz begat Obed of Ruth; ?and David the king begat Solomon; ?And Jacob begat Joseph the husband of Mary, of whom was born Jesus, who is called Christ. Matthew 1:1-17 KJV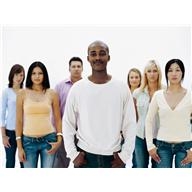 There they stood … all forty-three of them. Some tall, some short. Some Jewish, others Gentile. The young, old, righteous, and unrighteous. Some were bright; some not. But one thing in particular united them all. They are all chronicled in the lineage of Jesus Christ.
How can that be? One is from Moab. That is true. One of them is an adulterer and a murderer. Yes, he is in there too. Wait, what about that Caananite prostitute? Yes, her too. So, what does all this tell us? It teaches us that God can use anyone in His creation to accomplish His perfect will. He can do anything He wants with anything He chooses.
This powerful truth tells me I do not have to be tall to be useful to God. I do not have to be strong or attractive to be chosen for work in God's kingdom. I don't even have to be real smart, but I do have to be obedient. When I trust in the Lord, He can do anything through me. No personal limitation or obstacle is too great for God to make use of us as long as we are obedient.
I do not want to meet Jesus at the end of a life of defeat because I did not think I measured up. I do not want to stand before Jesus after a life of timidity because I was not tall, handsome, smart, and strong.
Strive to live a life of obedience, so the legacy of your life will say, "My God can do anything through any faithful believer because my God is great!"
(Photo courtesy of office.microsoft.com.)
(For more devotions, visit us at www.christiandevotions.us.)
---
---