Peter jumped to his feet and ran to the tomb. He stooped to look in and saw a few grave clothes, that's all. He walked away puzzled, shaking his head. Luke 24:12 MSG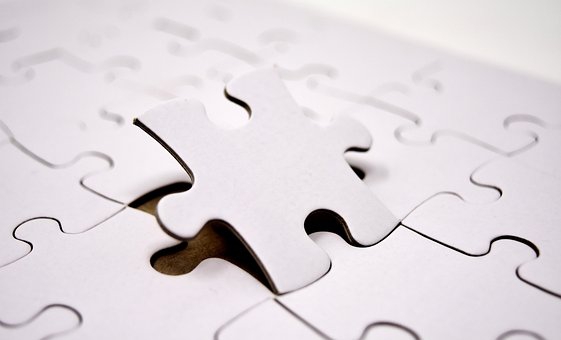 Peter puzzled over God's puzzle pieces.
Twenty-eight puzzles down, boxed up, and put away, I was a little cocky . . . overly confident. Most of the puzzles my husband and I construct are not too demanding. But number twenty-nine was a bear. We puzzled over the puzzle.
The generally accepted rules of puzzle assembly are that every piece has a pre-cut spot, and most pieces need neighbors to make sense and form a picture. They rarely stand alone.
But like Peter, we are sometimes puzzled by God's puzzle pieces. We think the next best steps are in front of us, but then something feels out of place. Peter expected Jesus' body to be in the tomb, but it wasn't.
Life is like a giant, living puzzle. Each day presents a new chapter in God's story and is ready to be assembled. Although life's pieces often don't seem to fit, our heavenly Father gently places them perfectly into the developing scene.
A phone call, text, or email fits into one corner. An unexpected meeting with a friend in the produce aisle fits into another. A casual supper with family or friends fills the center.
One day, my shirt sleeve accidentally flicked a puzzle piece to the floor. I got down on my hands and knees to search. Nothing. As I rose, my finger brushed against the missing piece. God reminded me He is with us even in the scattered puzzle pieces, whether literal or figurative.
Trust God to help you put the pieces of your day in their proper places so that you can create a new masterpiece for His glory.
(photo courtesy of pixabay.com.)
(For more devotions, visit Christian Devotions.)
---
---