There was a violent earthquake, for an angel of the Lord came down from heaven and, going to the tomb, rolled back the stone and sat on it. Matthew 28:2 NIV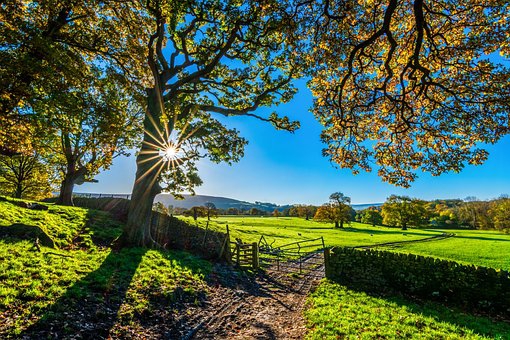 Living here a bit south of the musical mecca of Nashville, we hear two songs most associated with the beautiful State of Tennessee: "Tennessee Waltz" and "Rocky Top."
The "Rocky Top" source is evident to anyone who has tried to dig in a Tennessee ridge top. The soft limestone bedrock that lurks beneath the topsoil constantly chips off as the seasonal cycles of freezing and thawing attack the rock. The result is a constant slow-motion eruption of dinner-plate-size limestone out of the topsoil just waiting to eat your lawnmower blades and garden tillers. In fact, some say "Tennessee Waltz" refers to the annual spring dance Tennessee farmers suffer through to prepare their fields for planting.
In the twenty years we have lived here in our humble little ridge-top home in Middle Tennessee, we have certainly picked up our share of rocks. We have built walls, walkways, patios, a huge firepit, and garden borders with them. Not to mention replacing numerous lawnmower blades because of the ones we didn't see in time.
Our Lord Jesus,while being a carpenter instead of a farmer, also had to deal with a massive rock. The fact that Jesus had been dead for three days probably didn't help His situation. When He died on the cross and was laid in a tomb, the forces of darkness that had killed Him sealed Jesus' tomb with guards and a large stone.
For all of Jesus' life, angels supported Him during his trials. Now, as He took the sin of humanity upon Himself and its penalty of death, the angels (as well as God) withdrew. However, as the third day since His death on the cross dawns, Jesus—as prophesied—lives again!
Undoubtedly, Jesus could easily have removed the rock that blocked His former tomb. But He didn't have to—an angel returned to roll the stone aside. And then sat on it. What better testimony to mankind that God has placed His glorious seal of approval on Jesus' sacrifice?
God dealt with the rock that stood between Jesus and His glory. He can deal with the rocks in our lives just as effortlessly.
This Easter, will you let God roll away the stones in your life that stand between you and His glory?
(photo courtesy of pixabay.com.)
(For more devotions, visit Christian Devotions.)
---
---