Sing to the Lord a new song; sing to the Lord, all the earth. Psalm 96:1 NIV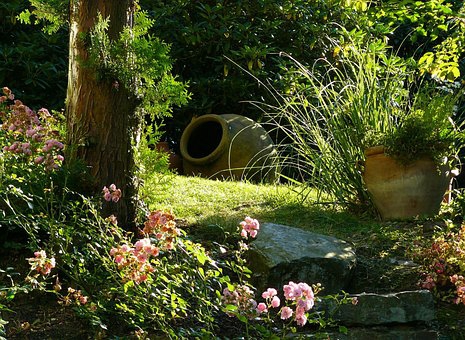 In my quiet backyard, I hear fifteen hand-sized rocks singing praises to the Lord. I love every one of these singing rocks because they have the names of my grandkids and great-grandchildren engraved on them. In my mind, when I hear the stones, they sing songs of praise.
A prayer of hope ended our annual women's retreat. The speaker asked God that each child, grandchild, and great-grandchild of every woman present would know Him personally. That as mothers and grandmothers, we would live our lives so that Jesus shined forth to all we love. Since that Saturday of teaching, prayer, and praise, I have heard my rocks singing. Their childlike voices blend with the few adult voices, full of excited joy.
The psalmist states that all of nature sings of God's glory. Each summer, my little garden has baskets of flowers, bird feeders, a birdbath, tall flowing grasses, a couple of tomato plants, and weeds. And fifteen stones, showing the names of grandchildren and great-grandchildren. These stones form a choir that exalts God's creation. I want to be wrapped in His joy, to thrill in His music, so I stop and listen.
When I enjoy the weather on my patio, walk to the trash can, get the mail, look through my kitchen window as I wash dishes, or cook, I listen. I smile because I discern these much-loved stones singing praise to God. I find joy, knowing my family choir will sing on and on. I hear the music of creation.
May we hear all of nature sing as our love of Jesus shines forth, drawing our children, grandchildren, and great-grandchildren to Him. The music of creation, a gift from Him to us, is present when we open our ears, eyes, and hearts. But to thrill to His music, wrapped in His joy, we must stop and listen.
How can you better hear the music of God's creation?
(photo courtesy of pixabay.com.)
(For more devotions, visit Christian Devotions.)
---
---