How sweet are your words to my taste, sweeter than honey to my mouth! Psalm 119:103 ESV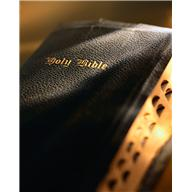 When I explore a county fair, street festival, or farmers' market, I always end up in front of the funnel cake food truck. "Yes, sprinkle mine with cinnamon and powdered sugar, please." I love sweets.
Recently, another woman and I began exploring a discipleship program called Sonship. This is my third time through the lectures and workbook assignments in the last seven years, and I'm excited to be taught by the Lord again—this time with a new friend.
For the first lesson, we sat across from each other at my kitchen table with our Bibles open and our workbooks alongside. As we dove into the material, my friend had a question. She picked up her Bible, held it out to me, and pointed to a passage. I was astounded at the page.
Underlined sentences and circled verses. Arrows swirling up, and arrows swirling down. Handwritten scribbles covering the margins. Yellow, pink, and blue highlighting. Obviously, she had studied the words many times, and she was asking me a question. I quickly felt inadequate but prayed for the Lord's help.
As a woman twice her age, I felt convicted … then comforted … for the Lord is quick to forgive when we confess our sins. And what were my sins? Not savoring the beauty of God's Word and not being thankful that I'm free to read His Word without persecution.
God's Word is sweeter than any food I put into my mouth, even the exhilarating sweetness of honey. From Genesis to Revelation, we can read God's plans and purposes for us, His unique creation. We are not the product of random chance in a disinterested, disorderly, and chaotic universe—as secular evolution teaches. We are God's beloved people.
I'll paraphrase John MacArthur's introduction to his Study Bible (NASB, 2020). The Bible is the Christian's story written by God to you. In reading it, you'll learn why He made you, what you were before you came to Christ, and who you are in Christ—and adding to the sweetness, what God promises for you in eternity.
Pick up God's Word and ask the Holy Spirit to help you find the sweet words therein.
What are some ways you can sweeten your Bible study?
(photo courtesy of pixabay.com.)
(For more devotions, visit Christian Devotions.)
---
---