The gospel is bearing fruit and growing throughout the whole world?just as it has been doing among you since the day you heard it and truly understood God?s grace. Colossians 1:6 NIV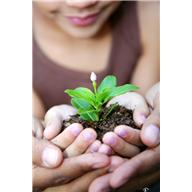 Our family keeps a small package of bean seeds in the freezer. We plant them in spring and then save extra seed from the new plants at harvest. By repeating this pattern at the end of every gardening season, we preserve and pass on a quality product.
This variety has a reputation for great taste and easy care. Its seeds have been saved for at least three generations. When others heard we grew them, their enthusiasm equaled ours, especially when we shared from our harvest. With this bean, we consider the work well worth the effort. Some varieties may look good, but the taste … not so good. We avoid them at all costs.
The same holds true for our personal lives. When we have a worthwhile message, it spreads, and people respond. As in Paul's day, the good news of Jesus Christ continues to find root and bear fruit in people's lives around the world. Not all believers choose to plant spiritual seeds. However, we don't quit because they decide not to help. Rather, we focus on the task ahead and what God calls us to do. Paul tells us in Galatians not to "become weary" in our work. He also reassures us of harvest time ahead.
Not everyone accepts the message, yet we dare not stop because some seeds fail to germinate. We plant the whole crop in hopes that most will grow and bear fruit. We share God's love with all who will listen—both for the benefit of those who hear and for future generations.
Give thanks for those who planted God's Word in your life. Then get out there and sow more seeds.
(Photo courtesy of office.microsoft.com.)
(For more devotions, visit us at www.christiandevotions.us.)
---
---