This is how we know what love is: Jesus Christ laid down his life for us. And we ought to lay down our lives for our brothers. If anyone has material possessions and sees his brother in need but has no pity on him, how can the love of God be in him? Dear children, let us not love with words or tongue but with actions and in truth. 1 John 3:16-18 NIV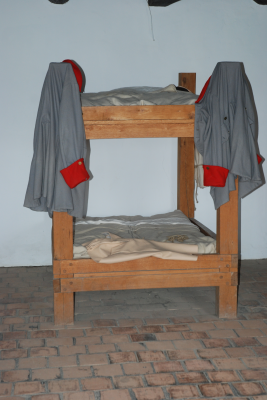 Our youngest son's bunk beds are gone. His bedroom feels so different now. This was no ordinary event; this was God on a mission. I remember years ago when we assembled our son's new beds. There was much excitement about moving into his big-boy bed. His bunk beds hosted sleepovers with family and friends for years. Now, the top bunk is rarely used and our youngest one isn't so little. His teenage body outgrew his bed, but his heart had not—sentimental as he is.
It breaks my heart to think of children in our city sleeping on the floor every night. A year ago, I asked our son if he would consider donating his beds. He wasn't ready. How does a mother take her son's bed right out from under him? I let it go.
Recently, the same tug came back to my heart. With the top bunk unused, and our son's body still growing, God made it clear that giving them away was His plan. We read today's verse in 1 John and I explained to him that, as believers, we have a responsibility to help others—even when it costs us personally. I asked our son to pray about it and wait for God's reply. The next morning, smiling, he said God gave him a peace about giving them away. I immediately called for a pickup from a local ministry which specializes in beds for children.
That same day, our van broke down. The repair came with a hefty bill. Reluctantly, I postponed the donation because we couldn't afford to replace the bed and fix our van. Days later, we made a family decision not to replace his bed. Instead, we bought a simple frame for his mattress so both the donation and van repair could continue. I asked our son to give up his bed, not old clothes or discarded toys. I wrestled with my heart over this as his mom, but God's patient persistence gave us peace and joy that He has a plan for those beds.
We should share what we can live without, but we should keep our hearts open and look for ways to freely give—even when it hurts. This is the generosity Jesus gave us through His sacrifice on the cross. When we give out of excess, that's great. But when we give out of sacrifice, we become God's heartbeat for the world.
Don't hesitate. Give.
(Photo courtesy of morguefile and kconnors.)
(For more devotions, visit us at www.christiandevotions.us.)
---
---