Before they call I will answer; while they are still speaking, I will hear. Isaiah 65:24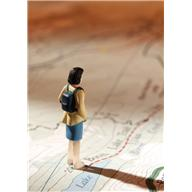 "We're lost, aren't we?" my partner Nancy asked as we looked around the New Mexico desert.
To complete our geology majors, we were participating in a required mapping course, and for the first few days our professor had escorted our class around the area, explaining how to note geologic features on a topographic map. This morning he had sent us out on our own, and the camp's cook had dropped us off on the way to town. Unknowingly, we had selected a spot not even on our map. Inwardly I fussed; if I couldn't even read a map, how could I ever create one? And if this wasn't the occupation God had selected for me, why had I felt His spirit nudging me to major in geology?
"Yes. We tramped all day outside of our mapping area."
"The sun's going to set soon. We haven't run across anyone out here," she said.
Our water was almost gone. We had no food, matches, or jackets to protect us from cold, scorpions, and rattlesnakes. Oh Lord, get us out of this mess, I prayed as we trudged along a track heading east. Shadows crept from the mountains. No beam of light illuminated the correct route. No voice from heaven told us what to do. Forty-five minutes slid away. Suddenly, from behind us, tires crunched gravel. We turned and waved our arms at a white pickup traveling toward us. A Latino man stopped and rolled down his window.
"We're lost. Please help us. We need to find the Camp Fire Girl Camp," I said.
He shook his head.
Speak in Spanish, the Holy Spirit whispered. I dredged up a few words from my high school days.
"Necesitamos ir a la Camp Fire Girl Camp. Por favor, ayuda."
He frowned, probably wondering about two crazy women hiking in the middle of a desert.
"Por favor," I pleaded.
Sighing, he nodded, and we quickly jumped into the pickup. He drove us to the base of the mountains and pointed at a thin path heading north. "Va aqui. No va en las montanas."
"No va. We won't go into the mountains," I replied. "Muchas gracias."
Twenty minutes later we stumbled into camp and found our classmates enjoying a bonfire. Back in our room, Nancy crumpled on her cot and wept. I sank onto mine and thanked God for a truck out of nowhere.
God reminded Isaiah that before His people would call on Him, He would answer. He's like that. A God of direction, allowing us to forge our way along, but keeping a watchful eye over us. And if we trust. . .if we believe. . .He will answer before the words leave our lips.
Although my desire is to follow God's will and avoid getting lost in the messiness of life, on other occasions I have also wandered off His map. Thankfully, each time, He has sent a passage of Scripture or someone—or both—to guide me back onto the proper path.
And one day, when my young son held up a pebble and asked me what type of rock it was, I explained that it was a piece of granite, and realized my college studies had prepared me to homeschool my kids.
Keep your eyes on Him and He will hear, guide, and answer.
(Photo courtesy of office.microsoft.com.)
(For more devotions, visit us at www.christiandevotions.us.)
---
---