Yet I hold this against you: You have forsaken your first love. Revelation 2:4 NIV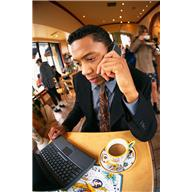 If you're a coffee drinker, you know there's nothing better than that first sip in the morning. Maybe for you, it's that first blast of a hot shower. Both are refreshing, eye-opening, and set the tone for the day.
There's just something special about firsts: First kiss. First grandchild. First A on a test. First blossoms in spring. First rays of sunshine after a long, dark, and difficult night. Your first paycheck. The first plunge into the pool on a hot summer day. Being the first one picked for the team. Your first glimpse of the ocean. The first time you hear, "I love you."
Maybe that's why God makes such a big deal of firsts. He told the church at Ephesus He was holding something against them—the fact that they had left their first love. He said the first and greatest commandment is for us to love Him with everything we have and then carry that same love over to others. He even says the first portion of our income belongs to Him.
Why does He insist on being first? Is it because He's self-centered and insecure? Certainly not. With God, there is a reason, a purpose, and an order to everything He does. Within the framework and parameters of His Kingdom, when we have our priorities in order (God, spouse, family, work, church, everything else), we give Him something to work with and His hand of protection and blessing will be upon our lives.
God is asking you today to stop and think about the first time you said "yes" to Him and invited Him into your heart. He wants you to remember when you first fell in love with Him, and the wonder and joy you experienced.
If you've never had that first experience with God—never known His love, peace, strength, forgiveness, and gift of eternal life—you can have it today. Just ask. If you do know Him, fall in love with Him again. Put first things first. Today is the first day of the rest of your life. How will you spend it?
(Photo courtesy of office.microsoft.com.)
(For more devotions, visit us at www.christiandevotions.us.)
---
---