This is the word of the Lord...not by might, nor by power,but by my spirit, says the Lord of Hosts...who are you, O great mountain? Zechariah 4:6-7a ESV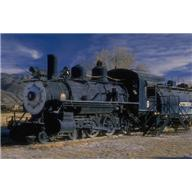 Puffs of smoke billow out of the train's smokestack—forming silhouettes against the horizon. The wheels and mechanics are strained to the highest level as it rolls up the railway tracks. Sparks fly from the exertion of metal-to-metal, causing a fundamental force of friction. A job meant for larger … bigger ... stronger.
The Little Engine Who Could, by Watty Piper, is a children's story that has been around since 1930. On a mission, a small train heads for the hills to try and make it up a high mountain. A motivational phrase ensues, "I think I can, I think I can." A story of reaching for greater things. Motivating us as kids to believe in ourselves—we can do it—if "we think we can." Aspire to help a worthy cause and achieve our potential.
While this is a wonderful storyline and inspiration to many in childhood, as Christ's followers, we believe in God—in His ability. God is able—a wonderful storyline repeated over and over in the Old and New Testaments of the Bible. A truth to pass on to our children as a personal testament from our own lives. The Lord calms the storm in the midst of broken relationships, a loss of employment, and financial struggles. He is able to heal physically, spiritually, and emotionally. He is present with us in times of loss and sorrow. God works all things for our good in hardships, hurts, or acts of evil against us.
God's ability gives us strength for pursuits of dreams, education, work, and ministry. His wisdom influences our decisions in where, how, what, and why in daily living. He wins the battles in our present struggles and spiritual warfare.
God helps us make it up the mountains in life. We can't do it alone … in our own power. Our internal engine needs assistance from a greater mechanic. A complete tune-up or an entire overhaul. A regular maintenance program from a greater power. The Holy Spirit's fundamental force in our lives—a job meant for larger … bigger … stronger.
Head for the hills and let's get started. Ready. Set. Go! "I know God can, I know God can…"
God Can!
(Photo courtesy of office.microsoft.com.)
(For more devotions, visit us at www.christiandevotions.us.)
---
---