But this command I gave them, Obey my voice, and I will be your God, and you shall be my people; and walk only in the way that I command you, so that it may be well with you. Jeremiah 7:23 NRSV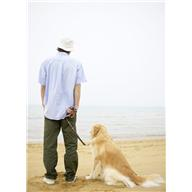 Fun in the sun. Beach fun. What a wonderful time to spend with family and friends—a time used to rest, relax, and unwind. A time to temporarily escape from the norm, the beach offers relief from everyday responsibilities and the pressures of life.
Some of us anxiously await the summer season. We long for the beach once again, often expecting similar experiences. However, unexpected things can happen at the beach. God can show up.
I stared out into the horizon sitting high on a bridge above the beach in Wildwood, NJ. I was awestruck looking at the Atlantic and the greatness and vastness of Almighty God. I lingered there for over an hour. My eyes couldn't take in enough of His creative wonders. My thirsty soul was quenched by His presence.
I looked along the beach and observed people walking, jogging, and some walking their dogs. My eyes fixed on a particular man and his dog as the animal quickly ran from him. The man called out and the dog, recognizing his voice, obeyed. He responded to his master's voice. The dog's response to listen and obey his master caused me to realize just how much more we should listen and obey when God (our Master) commands or calls us. Whether He commands us to simply witness to the lost or calls us to a specific ministry assignment, we should readily listen and obey.
Beach experiences can be quite pleasurable. They can give new and unexpected perspectives about our God. Regardless of where He shows up, once we hear Him speak to our heart, our task is to readily obey. If so, the benefits and rewards will bring blessings beyond compare.
Listen for His voice and obey.
(Photo courtesy of office.microsoft.com.)
(For more devotions, visit us at www.christiandevotions.us.)
---
---