Then he said to them, ?Go your way, eat the fat, drink the sweet, and send portions to those for whom nothing is prepared; for this day is holy to our Lord. Do not sorrow, for the joy of the Lord is your strength.? Nehemiah 8:10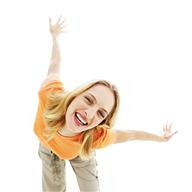 Years ago, when life just seemed overwhelming and would probably not turn out like I thought, waves of depression would wash over me. Then I heard, "The joy of the Lord is your strength." I knew I felt no joy, and that explained why I felt so weak. Hopeless to do anything about my life, I knew things had to change, but how to go about it was something I did not know how to accomplish. I just knew one thing: "The joy of the Lord was my strength."
So I went about trying to figure out how to find joy. Since I knew I was saved and forgiven of all my sins, why didn't I feel joy? Didn't it come with salvation? In my search to discover the answer, I realized how little I really knew God. I was reading His Word and going to church. I participated in Bible studies and conferences, taking notes and listening, but somehow for all my efforts, I wasn't seeing a lot of change in how I felt.
Many times we can walk through the motions of what we know to be Christian without really knowing the Lord. I was saved and submissive, but didn't have a relationship. No wonder there was no joy. For all I knew about Him, I really didn't know Him intimately. You can know a lot about celebrities and not have a relationship with them. And that was exactly what I had going on with my Heavenly Father.
I thought having the joy of the Lord as my strength meant I needed His joy to be strong. Now I know that it's the joy I receive from knowing Him that gives me strength. He knows how much we need a relationship with Him, and He patiently waits as we grow and understand Who He is and who we are in Him. When I reflect on what I know about Him, I immediately feel joy begin to rise in my spirit, giving me strength to overcome anything that wants to rob me of my joy.
Are you lacking joy in your life? Seek Him and you will find your joy and strength.
(Photo courtesy of office.microsoft.com.)
(For more devotions, visit us at www.christiandevotions.us.)
---
---